Delaware to Begin Testing Virtual Driver's Licenses Through Smartphone App
expand
Delaware is leading the way with plans to implement a mobile identification program, according to USA Today, which would include virtual driver's licenses. The company manufacturing the application that would house these virtual cards in MorphTrust USA, with plans to launch by 2016.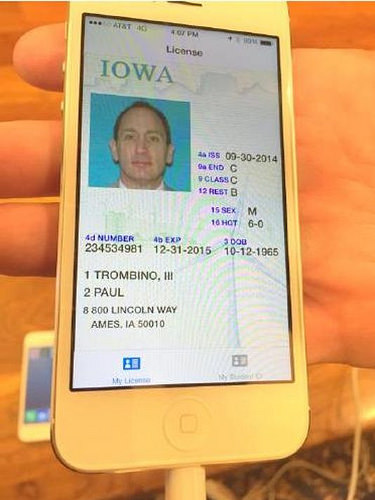 Image Credit: Flickr
"We'd like to go first," said Jennifer Cohan, director of the Delaware Division of Motor Vehicles and the governor's nominee for secretary of transportation. "If it world for Delaware citizens to show proof of driver's license and identification."
The application is currently going through initial tests and studies in order to discover functionality, USA Today reported. In additional to Delaware, Iowa is also interested in the software and a potential virtual license for its citizens, as well.
"It's an idea whose time has come," Jenny Openshaw, MorphTrust USA's vice president for state and local sales, said. "Smartphones are becoming more and more a digital wallet. Eventually, the last piece of plastic I need to carry around with me is a driver's license."
The convenience of a smartphone license app does not come without concerns, USA Today reported. Further, the application with not replace traditional, hard copy licenses.
"Would you really want to put an app on your phone that the government wrote?" said Chase Cotton, professor of practice in the University of Delaware's Electrical and Computer Engineering Department, USA Today reported. "They're probably not going to do anything bad, but most people have a lot of private information on their phones."
---
Katie O'Brien
Writer | Journalist | Reader | Traveller |